Skip Navigation
Website Accessibility
Visit Us at Threads Across Nebraska!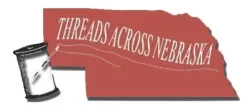 Thats right-we will be on the road this week vending at Threads Across Nebraska.
Threads is the largest and absolutely the best quilt and vendor show in the state. We have been working very hard in preparation. I have a huge stack of new samples that are just delightful. We have a ton of quilt kits and fabric bundles to add to your sewing list. There are new patterns that are just a stitch! So much to see.
*****************************
Show Special
We are bringing Tutto bags-including the new Tula Pink and Kaffe Fasset editions along with more great styles.The best part-
Save 20%
only at our booth-and only stock on hand during the show.
Tote along your precious sewing machine and tons of supplies in style. These bags' are heavy duty and have more pockets and storage than you can imagine. They will protect your machine, and you can roll into class or retreats in style.
************************************
Trippin Sew Along
The Trippin sew day is being moved to Oct 25th. This will give everyone extra time to finish up previous months sections-and prepare for the final section. What fun this has been. Stay tuned for the grand reveal of everyone's creations.
**************************************************************
A monthly gathering to inspire your inner quilter. We will share ideas and creations and learn something new. Make new friends-and spend time with like minded quilters. Progressive ideas and time to learn.
This time is just for you!
Be a little selfish. We won't sew charity quilts or projects for others (unless that's what you want to do), there are lots of great groups already covering this. This is time set apart to help you on your quilting journey.

Let's start our inspiring journey
October 17
Open sew time beginning at 10:30 am-Program at 2 pm
Drop in anytime throughout the day

Bring a show and tell and recieve a free fat quarter!
Everyone had so much fun at Saturday's class by Kelly-we are adding a couple more. What perfect Christmas gifts-and fun to make.

Easy Does It

October 21

9 am - 3 pm

$20

Includes pattern. Register online or at the shop-this will be a fun one!
Stash and Dash

November 18

9 am - 3 pm

$20

Pattern purchase additional

Pick up the pattern and supplies from us and save 15%
Pre-register for a new BOM beginning January

Door Banner BOM

by Riley Blake Designs

Subscribe to our 2024 Door Banner Kit of the Month Program and receive exclusive monthly door banners in keepsake boxes. Finished door banner size is 20" x 36". Registration is committing purchaser to complete 12 month program. Monthly cost will be $39.95 plus tax and shipping if applicable. Credit card's will be billed monthly for kit fees.
We have a limited number of kits available, reserve your spot for new sewing in January
New New New

Butterfly Fields

By Sew Kind of Wonderful

Program will begin late June 2024 and run for 10 weeks.We will once again offer the classroom for group sewing and video use on this program. We have ordered a limited number of kits-and will have bolt fabric available also.
New New New

Simple Whatnots Club #13 by Kim Diehl.

Includes eight fun-to-stitch small quilts. We will begin our BOM in early March. Register now to receive either 8 monthly projects-or choose to receive them all at once and work at your own pace.
Ghoulish Tidings

Ghoulish Tidings 12 month BOM program.
Each month includes fabric kit. Registration fee covers book and reserved spot in class.
Monthly cost is $15

How fun is this, a first Halloween BOM program

We are in the process of kitting this right now-it is Spooktacular!
Watch for new classes in November/December.