Skip Navigation
Website Accessibility
It is a Blessed Week
The upcoming week is one to be blessed. We love Thanksgiving and the time to spend with family and friends. Please note that we will be closing at 3 pm on Wednesday November 23 and will be closed on Thanksgiving Day.
We will back open on Black Friday, November 25 and we will be ready to celebrate.
We opened our shop to our wonderful customers and friends on Thanksgiving weekend 2002. So, we are celebrating 20 years of creativity.
Stop by on Friday for 25% off all regular priced fabrics, patterns, books, kits and notions. Also, take an additional 15% sale merchandise.
Saturday is Shop Small Day, with the savings still going. We are also participating with the Chamber for their Shop Small Event. Have your passport stamped with a chance to win prizes from generous merchants across our great town.
Spend $100 or more and score our limited edition Quilt Rack wine/beverage tumbler. Keep your beverage either hot/cold for that quilt class, or an evening marathon sewing.
(In store only

)
You may also purchase additional tumblers at the sale price of $19.95. What a great stocking stuffer for your favorite quilter.


Also, between now and June, with each $100 or more purchase, a free raffle ticket to win our Illusion Sampler quilt.
(In store purchases

)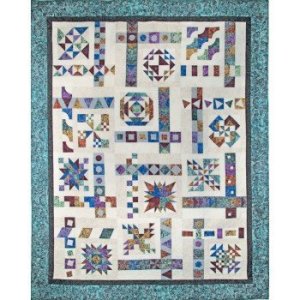 Tickets may also be purchased for $1 each. Our quilt is beautifully pieced and quilted and features the red borders. A generous 88 x 112" will fit even a king sized bed. Drawing to be held in June 2023.

Cyber Monday
Online friends-enjoy free shipping on
Monday November 28


No code needed



*********************

Snowman Nativity



Registration is now open





This program will run for 4 months. A fun winter themed project done in




cotton and wool and a touch of embroidery.


I Want In!
Sneak Peek.....

Coming Soon!
Alpine Valley


by Shelley Cavanna for Benartex Fabrics




Details coming soon-




12 month program begins July 2023

Floral Felicity
Registration is now open
By Sew Kind of Wonderful & Free Spirit Fabrics
Did you know that there is a free video every month that aides you in creating your monthly block? Watch at your own time-at your own speed-in your own home-what could be easier.

The newest offering of Block of the Month programs, Floral Felicity will run July 2023-June 2024. Read more and register at

Floral Felicity Registration

Ok-I couldn't let this pass by for everyone-I ordered alot of extra BOM programs-because I know once you see this-it has to be yours!
The gals at Sew Kind of Wonderful were generous to share one block from the upcoming




BOM program. I grabbed some scraps and made the hummingbird block. The ruler makes it so easy to complete this program with such great results.
************************************

Square Dance
Dec 13


1-5 pm




$15




Includes Pattern



The four-patches and alternate design in this quilt are cut from 10-inch squares. The sashings are pieced with units cut with the Creative Grids 10 Degree Wedge Ruler. These units create a secondary design that looks complicated but is oh sew easy

Register today!
Temperature Quilt
January 14


(January 28 snow date)




Create this stunning quilt for the current year-or a year of memory-birth year-anniversary, your choice.

I am ordering in lots of new fabulous fabrics for the background and blades-this is going to be so much fun!




Guest instructor-Sandi Griepenstroh



Me---Me---I want to do this
Wagon Wheel
January 25
1-5 pm
$15
Includes pattern

Wagon Wheel is the obvious choice if you are looking for a tablecloth for a round table. Or piece in holiday fabrics, leaving a slit and opening for a tree skirt. At 65-inches, this is big enough to add that awe factor to any tree!

The spokes are cut with the Creative Grids 10 Degree Triangle Ruler

Register Today


************************


New Tim Holtz Fabrics



Shop Tim Holtz Fabrics


Don't forget our Anniversary Sale this weekend-the savings are yours!