Skip Navigation
Website Accessibility
Fabric Everywhere!
The fabric gods have done their dance at the shop this week. We have lots of new fabrics to share this week. The biggest and most exciting news to share............
| | |
| --- | --- |
| | |
Exciting new fabric line we are now stocking! Just over 100 bolts featuring illustrations by Charley Harper. Charley gave so much to the art world with his Mid-Century Modern style. Our new fabrics featuring Charley's designs with the softest and color rich infused prints are by the incomparable fabric company-Birch Fabrics. These fabrics are 100% premium organic cotton poplin. Popular for not only quilts, these fabrics are wonderful for clothing construction also. We are offering an introductory price of 25% for the remaining month of July. Most are bolt fabrics-(there are about 12 bolts that will arrive next week)-we also have some fat quarter bundle packs to give you a great variety to start with these luscious fabrics. Sale prices will be shown and automatically apply.
Shop Charley Harper Fabrics
*******************************************************


Perfect Pairing





I was dreaming about the new Charley Harper fabrics and imagining what quilts I wanted to create with them. The prints are generally large and very showy. The perfect solution, a 3-Yard quilt project. Fabric Cafe has lots of great patterns that many feature larger cuts of fabric. What a perfect way to show off the fabrics and create a beautiful, fast and fun project.



Fabric Cafe Books and Patterns

Plus add 3 one-yard cuts of new Charley Harper fabrics on sale-and your next project will become a reality.

*********************************************

New BOM
Bench Pillow of the Month
Begins January 2023.
Pre-register and reserve your spot now. A new bench pillow kit every month. Each month designed by a different designer from Riley Blake Designs-and each month new & unique. Kits will be packed in a collectible box.

Sign me up!

Sunflower Ala Lulu


July 29




1-5 pm




$15




Includes pattern





Get ready for late summer or fall decorating. Love these giant sunflowers. No specialty ruler required. Just a bias maker



Sign Me Up!

Farmhouse Window
an introduction to paper piecing
August 5
9:30 - 5 pm


$50




Includes lunch, snacks, pattern and papers.






Register Now




Fabric kits are now available-please note-this is fabric only-pattern and papers not included-if you are taking the class, they are included in the class fee.



Purchase fabric kit



Our fabric kit will look very close the picture-all quality batik fabrics.
Vintage Windmill


taught by Sandi Griepenstroh




August 13


$65


Enjoy a full day of sewing and instruction by Sandi. We will even bring in lunch and snacks




so you never have to lose any precious sewing time. Limited enrollment-




let the fun begin.




Register Now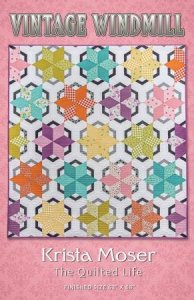 Around the Neighborhood-a new Block of the Month program that we will be offering. How about a once a month in house sewing session for this project. I totally love house quilts. Approximate 59" square.

We would like to start this program for Fall-
Possibly a weekly get together-
or online program.