Skip Navigation
Website Accessibility
Sale-Sale-Sale
It is clearance sale time. We need to make room for an extra large new group of exciting fabrics that we will soon be offering. To make the extra room, and we will need lots-we are closing out our remaining Civil War inspired fabrics at 40% savings-
one yard minimum cut please!
Shop Civil War Fabrics
We have also moved lots of fabrics to the clearance section-most are currently priced at $6 per yard or less. There are lots of bolts that are in the clearance section that never made it to the website-so the instore selection is huge! Stop by for the best shopping.
Shop Clearance Fabrics
*****************************************
Have you ever asked
What is 100% Organic Cotton Fabric?
100% Certified Organic Cotton Organic cotton is grown in an environment where no pesticides, chemical fertilizers, or herbicides have been used for a minimum of three years.

Also...
What is the difference between broadcloth and poplin fabric?


Broadcloth and poplin are woven in the same way. Both fabrics are plain weaves and are often confused with each other. They can be made from cotton or cotton blends, and they both have a lustrous appearance.




Poplin is a lightweight fabric that combines fine warp threads with thicker weft yarns.


Broadcloth has a more robust, sturdy texture than poplin because it is woven with thicker warp and weft threads.


A poplin fabric made from 100% cotton combines the positive benefits of cotton with a strong, durable weave. Being cotton, it absorbs moisture and doesn't hold on to smells. The fabric is soft, cool to the touch, and capable of withstanding frequent use.


It may be a lightweight fabric, but it's also a strong and sturdy material. The weave helps retain color, which will help keep your project bright for years.


It's also both soft and lustrous. Normally fabric is either one or the other. With poplin, you get the best of both worlds.



This information may just come in quite handy....
*******************************************


New!





By Heather Peterson for Riley Blake Fabrics





Packed in an adorable collectible box.





$33.95



I need it now!
John Wayne Pillow Panel




Perfect to make 4 large pillows-or as great blocks for your




next quilt.




I've Got Cowboy Fever


Winter Wonder Sampler Quilt Kit by Heather Peterson for Riley Blake Designs




67 x 76"




Includes fabrics for top and binding


Boxed in collectible box


I got the chills-send me a kit!


New BOM
Bench Pillow of the Month
Begins January 2023.
Pre-register and reserve your spot now. A new bench pillow kit every month. Each month designed by a different designer from Riley Blake Designs-and each month new & unique. Kits will be packed in a collectible box.
Sign me up!


Sunflower Ala Lulu
July 29
1-5 pm
$15
Includes pattern

Get ready for late summer or fall decorating. Love these giant sunflowers. No specialty ruler required. Just a bias maker

Sign Me Up!

Farmhouse Window
an introduction to paper piecing
August 5
9:30 - 5 pm


$50




Includes lunch, snacks, pattern and papers.






Register Now




Fabric kits are now available-please note-this is fabric only-pattern and papers not included-if you are taking the class, they are included in the class fee.



Purchase fabric kit



Our fabric kit will look very close the picture-all quality batik fabrics.
Vintage Windmill


taught by Sandi Griepenstroh




August 13


$65


Enjoy a full day of sewing and instruction by Sandi. We will even bring in lunch and snacks




so you never have to lose any precious sewing time. Limited enrollment-




let the fun begin.





Register Now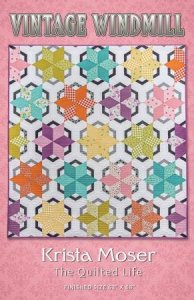 Around the Neighborhood-a new Block of the Month program that we will be offering. How about a once a month in house sewing session for this project. I totally love house quilts. Approximate 59" square.

We would like to start this program for Fall-
Possibly a weekly get together-
or online program.
******************************************************
We are also adding a collage class, a barn painting class and a couple from the Shannon Fabrics educators for later this fall. Learn something new-make new friends-take a class!