Skip Navigation
Website Accessibility
Winter or Spring?
What a wild change of weather this past week has been. We had a warm and sunny weekend-then blistering cold during the week. We don't know whether to keep out the snowmen-or put out fresh tulips. The joy of late winter in Nebraska!
Our fabric arrivals lately have been similar. We are receiving fabrics that were scheduled for early winter-and also new spring goods. The selection is overwhelming right now.
Speaking of delays:


Time Well Spent
Was supposed to be a BOM starting early January-well, it just shipped out and should arrive early in the week. I had temporarily pulled the BOM sign-ups because of the uncertainty-but we will get back into the swing of this program now with shipments beginning later March. There is still room to register for this program. It can be done in either 7 small projects-or one large project. Please let me know your preference.
We still don't have monthly cost for the program-cause the book comes with the fabric-so we promise-soon!
Register Now
****************

| | |
| --- | --- |
| | |
Introducing:
Hearts Across the Prairie
Our project included in the All Kansas/Nebraska Shop Hop magazine.
We totally fell in love with the fabrics designed this year by Maywood Fabrics. Follow our heart path through the sunflower fields on your journey through the states for shop hop. We have the fabric kit available for pre-order now-delivery or pickup the first of April.
Save 10% by ordering today or tomorrow, February 28th
Pre-Order Kit
********************************
Shop Hop magazines have sold very quickly-we are down to just a small amount already-so get your orders in now! We should be able to re-order more, but you don't want to be left out.
Pre-Order Shop Hop Magazine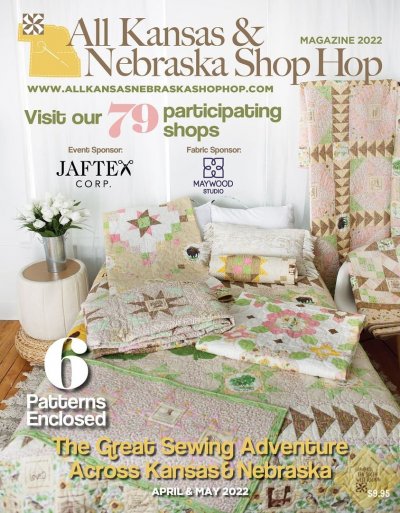 Flock Inn
The Shop Hop involves a total of 79 shops this year. The shops have been divided into regions. Our shop belongs to the Northwest Region. The clever shop owners of this region have put together a fun project that you can collect by visiting each shop. Welcome to the Flock Inn.
This is our example-but each shop will have their own special variation.
Start by purchasing the center of the quilt pattern-the Inn, from our shop. Then each shop will offer a kit featuring their unique bird. Shops may also offer a fabric kit for the Inn and maybe unique finishing kits such as borders and embellishments.
Collect as many birds as you can-or maybe you will have multiples of your favorites.
By visiting each of the shops in the region-the Shop Hop group will send you a commemorative printed block that can become the center of the bird house and a great memory of the first annual hop.
Kits will be available from each shop during the hop. Start planning your route-and have your birds gather at the Flock Inn.

A Hop within a Hop
Introducing "Flock Inn"




The Flock Inn will be available


exclusively from shops featured in the Northwest Region.

Pick up your "Inn" pattern and the fun Flamingo kit from us.
Follow our Facebook page to see variations
of the Flock Inn from shops across the region beginning in March.
Follow us on Facebook
*********************************



Stitch With Us




Another 12 Days Stitch a Long. Begins March 14. Purchase your pattern and come stitch with us until March 29. The calendar show weekends also-we will not be showing new blocks-just catch up days if needed!
Grab a fat quarter bundle that you have been wondering what to do with-or pull your scraps. A combination of piecing and applique is used in this project.

Purchase Now


*********************************************
Americana Casserole Hot Pad
March 24
1-5 pm


$10




Includes pattern


Fits a standard 9 x 13 dish. Keep your dishes hot-or cold. Perfect for a hostess or shower gift.

Register Now

Sundrop
April 12
1-5 pm
$15
Includes Pattern
From our very own Cabin Cuties Series-Sundrop is a delightful runner made using the Creative Grids 4" Log Cabin Rulers.

Register Now
**********************************

Bluebell
by Lewis & Irene

Sweet fabrics for Spring-love the bunnies and hedgehogs playing in the
field of bluebells-extra sweet.
Shop Now