It is seriously the time of year to start making firm plans for the future. Time seems to slip by and our best ideas get harder to materialize.
We have a full plan for Spring and Summer in the works.
We can't share all the details just yet-but we are excited.
The first big plan coming up is the first annual All Kansas/Nebraska Shop Hop. As we have been bragging for weeks now, we are so excited to have a project that is featured in the shop hop magazine-along with another project that makes a "hop within a hop" for the region. I just finished the quilt for this project and you can get a sneak peak at the shop right now. I hope to get it photographed this week so we can share with everyone.
In the meantime-make sure that you have pre-ordered your offical Shop Hop magazine for delivery later this month. The cost is just $9.99 and has all the shop hop details and some great patterns! I will invoice everyone when the publication arrives-and shipping for out of towner's is just $1.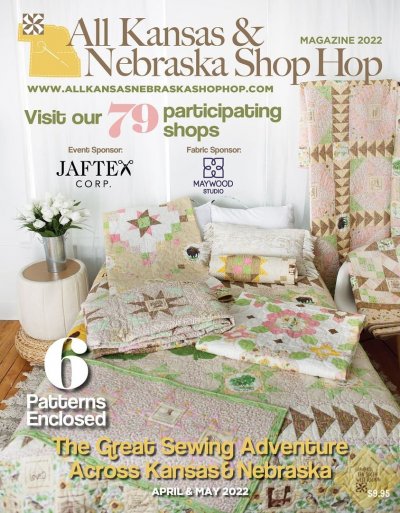 Pre-order magazine

Shop Hop in style with the official T-shirt!


We expect delivery of these just before the hop begins. Order now and save $1 and have your shirt to hop in style.




Regular Price $20




Pre-order Special $19




We will have a few extra shirts for sale during the hop-but pre-orders will insure that we have your size in stock.




Pre-order special runs through




Febr 14.




Order your shirt now!