Skip Navigation
Website Accessibility
Spooktacular!
It is the start of the Fall holiday Season, Halloween! Shop remaining Halloween fabrics at 20% through Friday. There is still time to make a fun project.
*********************

For all our golf fans-new fun prints!
Great focal prints for that next project.
Shop Now


Tula Pink Tutto Wheeled Case





Fun, bright and so sturdy. These Tutto bags are the perfect accessory for your machine and supply traveling. You invest alot of money in your sewing needs-carry them in the best and prettiest way.





My buddy Snickerdoodle is wanting to show off a brand new Cut Loose Press design-but I insisted that we wait a couple days yet-he won-sort of-





Coming Soon




Penny Lane

***********************************
Folded Star Hot Pad Class





This is a fun, newly revised version. These would make perfect gifts for the upcoming holiday season. Choose either the round or square version. Pattern purchase required.





Nov 10




1 pm


$5

Register Now


It's back........


Crazy Christmas Trees


Always one of our most requested classes for the holiday season.
These crazy fun trees make the perfect runner-or keep going and make an entire quilt.

November 17
1-5 pm
$10
Includes pattern

Register Now


Magic Cuff Stocking




Nov 18




1-5 pm




$11




Includes pattern and interfacing for 1 stocking top.





Just in time for the holidays. New stockings will brighten up your holiday decor.




Register Now
**********************

Has Just Begun-its not to late to start yours!
Stitch Pink
October 2021
The annual event supporting Breast Cancer Awareness. This years project is stunning. We have the patterns available now
Purchase Pattern

Begins Oct 15th with 2 videos per week by Sherry McConnell to walk you through everything from cutting to finishing your project. This will be
offered Free to anyone who would like to participate.

Layer Cakes and Jelly Rolls are stocked and the bolt fabrics arrived just as we were leaving.
Sincerely Yours


Ps.....all the fabrics are now in stock!

**********************************


Sew It Yourself



This program was designed for the beginning sewer-or someone that is looking for fast and fun projects. There are a total of 4 projects that will be offered monthly beginning in late September.




The first project will be a darling pillow with several options.




The class will be offered online-so learn on your schedule!


We will have more details soon! This is a national program and we are excited to be able to offer this to our customers.
Register now for your online access to this class. Cost is only $5 per class. Kits will be available also.

Patterns will be emailed along with access to the online video. First class, the pillow is available now!
Register Now

Some of the featured fabrics arrived at the shop! We will be kit cutting this week.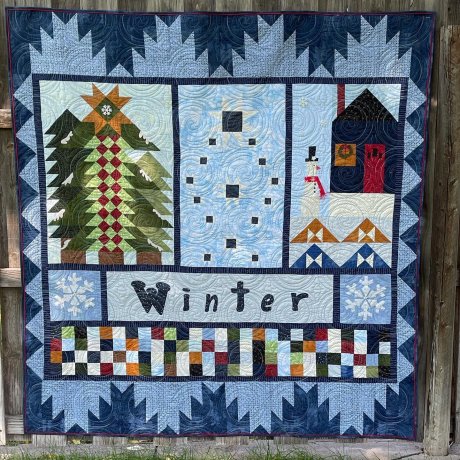 Winter Wishes
is a delight to make and share throughout the winter season. Visit one of 4 shops to pick up the exclusive kit.
The Quilt Rack-North Platte
Prairie Point Junction-Cozad
Calico Annies-Fullerton
Wagners Quilts-Arapahoe

The kits will be available at each shop or pick up a free pattern until
Nov 30.
Snowman at Home Kit



Each shop will also feature their own spin on a finishing design. We have kits available for our

s.
Snow on the Mountains Kit

*********************************

Kansas/Nebraska Shop Hop 2022



Have you heard the news?? Kansas and Nebraska are combining for a Shop Hop in 2022.

Dates are for the months of April and May.



We are soooo excited to be part of this new venture. A two month hop-

that includes two states! There will be so much information to share about this in the coming months.



There is no formal registration to participate in the hop, but, there is an awesome magazine that you can purchase that has all the information about participating shops for purchase. This will be available around February. To guarantee that you get a copy-preorder your copy now!

Pre-order magazine now!

We are not taking payments yet-but get your name on the list so you will have all the information to hop across the states. This cost is just $9.99 and it will also include some great patterns in the publication.

**************************************