Skip Navigation
Website Accessibility
More New Merchandise
We have been busy this week checking in lots of new merchandise. Yes, many of the items are months late, but it is so nice to finally see them arrive. We have fabric "amore". Come see new Halloween, Christmas, Patriotic and more!
*****************************************
Two new groupings of batik fabrics from Island Batiks.

We have 8 bolts from each group-and they are beautiful. A different twist for a non-traditional look.
Shop Island Batiks


Belle Isle by Minick & Simpson for Moda Fabrics
Shop Minick & Simpson


Tim Holtz fabrics
Quickly becoming one of our favorite designers.
Shop Tim Holtz Fabrics



Petals & Pedals by Riley Blake Designs
Shop Riley Blake Fabrics


We added some beautiful new patterns from Ilene Bartos Designs-raw edge applique and she uses a lot of hand dyed fabrics or batiks
Irene Bartos Designs
**********************

Has Just Begun-its not to late to start yours!
Stitch Pink
October 2021
The annual event supporting Breast Cancer Awareness. This years project is stunning. We have the patterns available now
Purchase Pattern

Begins Oct 15th with 2 videos per week by Sherry McConnell to walk you through everything from cutting to finishing your project. This will be
offered Free to anyone who would like to participate.

Layer Cakes and Jelly Rolls are stocked and the bolt fabrics arrived just as we were leaving.
Sincerely Yours
There is still time to start this quilt a long-fabrics are at the shop and we have a couple books left!


Oh Scrap and Hustle & Bustle
Another great online sew a long beginning in October
Hosted by Lissa Alexander
Hustle & Bustle line of fabric
I have limited number of fat quarter bundles available
available NOW

Order Fat bundle or alternate 1/8 yard bundle
Bolt fabrics have arrived!
Lissa has posted an updated schedule for her Quilt a Long
October 1 – 6 large heart blocks

October 8 – 9 multi-heart blocks
October 15 – 15 alternating four-patch blocks

October 22 – Cornerstones & Sashing

October 29 – Assembly, Borders & Finishing
Sew It Yourself



This program was designed for the beginning sewer-or someone that is looking for fast and fun projects. There are a total of 4 projects that will be offered monthly beginning in late September.




The first project will be a darling pillow with several options.




The class will be offered online-so learn on your schedule!


We will have more details soon! This is a national program and we are excited to be able to offer this to our customers.
Register now for your online access to this class. Cost is only $5 per class. Kits will be available also.

Patterns will be emailed along with access to the online video. First class, the pillow is available now!
Register Now

Some of the featured fabrics arrived at the shop!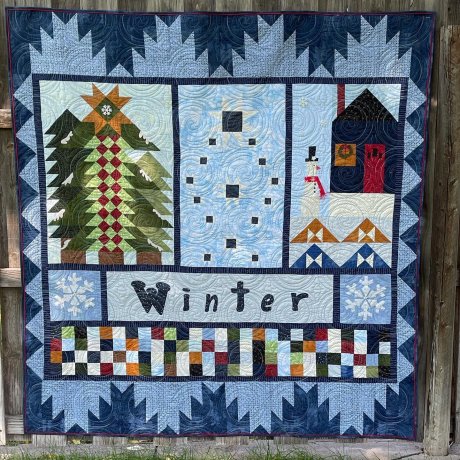 Winter Wishes
is a delight to make and share throughout the winter season. Visit one of 4 shops to pick up the exclusive kit.
The Quilt Rack-North Platte
Prairie Point Junction-Cozad
Calico Annies-Fullerton
Wagners Quilts-Arapahoe

The kits will be available at each shop or pick up a free pattern until
Nov 30.
Snowman at Home Kit



Each shop will also feature their own spin on a finishing design. We have kits available for our

s.
Snow on the Mountains Kit

*********************************

Kansas/Nebraska Shop Hop 2022



Have you heard the news?? Kansas and Nebraska are combining for a Shop Hop in 2022.

Dates are for the months of April and May.



We are soooo excited to be part of this new venture. A two month hop-

that includes two states! There will be so much information to share about this in the coming months.



There is no formal registration to participate in the hop, but, there is an awesome magazine that you can purchase that has all the information about participating shops for purchase. This will be available around February. To guarantee that you get a copy-preorder your copy now!

Pre-order magazine now!

We are not taking payments yet-but get your name on the list so you will have all the information to hop across the states. This cost is just $9.99 and it will also include some great patterns in the publication.

*****************************

We will focus on a few new class offerings-and how to fit in some BOM programs that arrived extremely late for the year for next week.