The first project is Log Cabin Hearts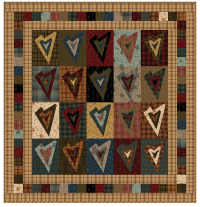 One Crazy Sister Club
One Crazy Sister Club designed by Janet Nesbitt. There are 8 simply adorable and crazy projects included in this club along with a bonus 9th project that can be made with leftover blocks from the previous projects. Our club fee entitles you to the pattern emailed to you each month beginning mid January through September. You will also receive a 10% discount on any fabrics or kits purchased for your projects. Online orders will receive a discount code each month to purchase supplies-it will be included with your pattern download.
Pick and choose which projects you would like to make-or only make the Grand Finale quilt-Crazy Good Life, the choice is yours. We will be stocking most recommended fabrics-or chose your own color combinations.
We know you will have a "crazy" good time!
$30 registration
Register Now