Skip Navigation
Website Accessibility
Sunny Days at The Quilt Rack & Wool Cubby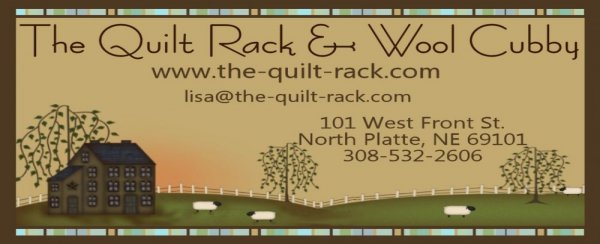 The Sun is Shinning-time to fish!
Something fun for the fisherman (woman) The Great North and
Salmon Pond by Kanvas Studios.
Buy Now
Buy Now
---
This Week's Special
"9"
By Sanae
Each charm pack contains 27 pieces that measure 5".


Regular price $5




Sale price $2.50



Buy Now
---
Sunny Lemon Bars
Bottom Layer:

2 cups Flour

½ cup confectioners sugar

2 sticks of unsalted butter softened

Filling:

4 eggs slightly beatened

¼ cup flour

2 cups sugar

1 tsp. baking powder

½ cup fresh lemon juice or minute made concentrate

Glaze:

1 cup confectioners sugar

4-5 tbs. fresh lemon juice or minute made concentrate
Preheat oven to 350 degrees

Bottom layer:

Cream together butter, flour and confectioners sugar at low speed until crumbly

Press into the bottom of a 9 x 13 pan

Bake at 350 for 20-30 minutes until browned

Filling:

Combine eggs, flour, sugar and baking powder in large bowl and blend well

Stir in lemon juice

Pour over warm crust and bake 25-30 minutes until top is golden brown

cool completely

Glaze:

Once the bars are cooled mix the confectioners sugar and lemon juice. Use 4 tbs. and if it looks too thick add one more.

Pour over cooled bars and spread over the top

Let sit for about 20 minutes for the glaze to cure
---
It's New:


Fresh and sunny prints by Marcus Fabrics-Savannah
Shop Savannah Fabrics

---
The Quilt Rack Facebook
The Quilt Rack on Pinterest
Click to visit The Quilt Rack!