Skip Navigation
Website Accessibility
Shop Hop Draws To An End And More News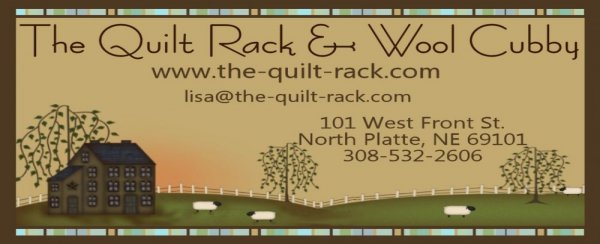 Thank you to all the Shop Hoppers
Shop Hop is now on the final day. Thank you to everyone that came to see us. We had a great group this year. We hope that you found new inspirations and will come back to see us again soon.
---
Website Update:
We were alerted by our website provider about two weeks ago that major changes were needed to be made to stay current with Google. That means we are once again changing our site to comply with the new requirements. Of course-with this happening during Shop Hop-our time has been limited.
You will notice changes on the site now-and a different layout. Please note-I know that things aren't quite right yet but with a little luck and time, I should have everything back up to snuff in a few days.
---
Special This Week:


Rylee's Garden
by Farmhouse Threads.


Finished size is 15 x 35".




Designed to use with wool applique.




Original price $8




Sale price $5



Rylee's Garden
---
Trading Techniques with Quilting
April 25
9 am - 3 pm
Sutherland Methodist Church
Presenters will be:
Patricia Pressler
Joyce Snyder
Lisa DeBord
Barbara Shepardson & Nancy Shavlik
---
Row by Row Experience
June 21 - Sept 8
The Quilt Rack is excited to be part of this fun filled summer adventure. Stop by during the dates listed for your free row pattern. We have awesome new fabric plates this year also. The theme is H-2-O, so wait until you see what everyone has in the works.
We will reveal our row and plates soon-stay tuned!
Row By Row Experience 2015
---
Judy Niemeyer Quilts Trunk Show
June 11
7 pm
McKinley Education Center
Join the Heartland Quilters' Guild for this free program by Catherin Erickson. View all the wonderful paper-pieced quilts and get a few quick tips.
Heartland Quilters' Guild Facebook Page
---
Like The Quilt Rack on Facebook Follow us on Pinterest

The Quilt Rack Facebook The Quilt Rack on Pinterest


Click to visit The Quilt Rack!